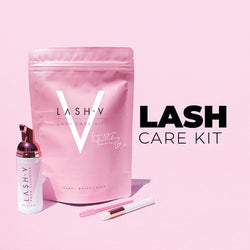 Lash Care Kit
Our beautiful Lash V Lash Cleanser Kit is perfect to keep the lashes looking luscious. Daily cleansing of the eye area and lash extensions is one of the most important steps to maintaining good retention. Lash V Foam Cleanser shampoo removes germs and impurities on eyelashes, keeping natural lashes clean and healthy without compromising the eyelash extension bond.
Our lovely LASH V Lash Cleanser Kit comes with:
1 x LASH-V Foam Cleanser 60ml/ 2.0 oz
1 x Brush
1 x Wand

HOW TO USE:
• Pump a small amount of the Lash Foam onto the cleansing brush. Gently cleanse lashes while eyes are closed. Keep out of eyes. Rinse with water.
• Wands are perfect for brushing lash extensions giving them the perfect curl.

INGREDIENTS of Lash V Foam Cleanser:
Water, Propylene glycol, Coco-glucoside, Squalane, Sodium surfactin, Hyaluronic acid, Hydrocotyle asiatica extract, Ethylhexyglycerin.
CAUTIONS & WARNING:
1. Keep out of reach of children.
2. Avoid using on opening wound, blemishes, inflamed, swollen, sunburnt or excessively dry skin.
3. Avoid eyes, if product gets into eyes, flush out immediately with water. If irritation occurs, discontinue use immediately and consult your physician. For external use only.


Express Australian Post
$9.95 for each order
Free shipping

 

if the Total is more the $60
Avoid eyes, if product gets into eyes, flush out immediately with water
If irritation occurs, discontinue use and consult with your physician .Store in a cool, dry place and keep out of reach from children
For external use only